Cleaners Streatham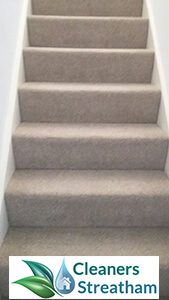 Carpet cleaning is amongst the heaviest, hardest cleaning chores. That is why Cleaners Streatham offers the residents of Streatham a chance to have their carpets and rugs cleaned thoroughly using the latest cleaning equipment operated by professional cleaning technicians with years-long experience!
Cleaners Streatham is an extremely effective and diligent carpet cleaning service operating in Streatham and London. We have spent years perfecting our methods and techniques for removing harsh, stubborn stains on both carpets and furniture. Outsourcing the carpet cleaning chore to us will only guarantee its successful end results.

End of Tenancy Cleaning in Streatham
Prices
Studio flat

from £

79

One Bedroom Property

from £

137

Two Bedroom Property

from £

159

Three Bedroom Property

from £

181
Hourly Based Cleaning Services in Streatham
Prices
One Off Cleaning

£

16/h

Domestic Cleaning

£

16/h

Regular Cleaning

£

16/h

Deep Cleaning

£

18/h
Carpet Cleaning in Streatham
Prices
Hallway carpet

from £

4

Bedroom carpet

from £

23

Living room carpet

from £

25
Minimum call out charge £48.
Instead of spending hours rubbing and washing your carpets and not knowing whether you have removed the unwanted stains and dirt you better call on Cleaners Streatham and ensure the most perfect outcome of the cleaning process. All residents in Streatham can schedule a professional cleaning with us, for our rates are fair and affordable. Our working schedule is very flexible in order to fit your time table and squeeze in your daily lives.
Do not cross out your carpets and rugs just because they are dirty and stained! Call Cleaners Streatham in Streatham and have them cleaned! We guarantee perfect end results!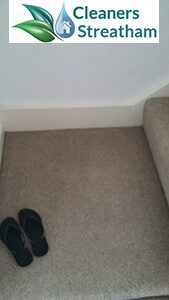 Some people are unable to have their carpets cleaned and not because they are not particularly good at cleaning, but because they do not have the space, time and tools to complete the job.
Cleaners Streatham offers its future customers perfect cleaning conditions and excellent end results! We will have your carpet cleaned right there on the floor in your home.
Our cleaning technology allows us to perform various cleaning procedures without moving the carpet or taking it out in the open. We have supplied our diligent cleaners with all the cleaning equipment and materials necessary for a thorough, efficient carpet cleaning service.
Upon reviewing your case and inspecting your carpets we can provide our professional input on the cleaning process.
Deep-cleaning is optional. We provide hot water extraction method as well as dry cleaning method. Both very effective against stubborn stains and deeply-embedded dirt and dust.
Our equipment allows us to clean your carpet/rug thoroughly and leave it almost complete dry! Our deep-cleaning methods such out the water along all the dirt from within your carpet's fibre.
Our cleaning technicians are highly-qualified professionals who will treat your carpets and rugs to perfection. They will apply the appropriate cleaning methods and ensure your carpet's clean state, as well as it's safety.
All of our solutions are a 100 percentage environment-friendly and harmless for the carpets.
Cleaners Streatham will clean your carpets better than you ever could. Our key to succession is our long-time experience and rich knowledge of the cleaning process itself.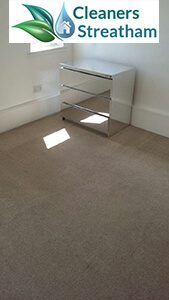 The cleaning of your carpets can be time-consuming and burdening, especially if you are working full time and cleaning is not your main priority. We supply the whole region of Streatham with constant carpet/rug cleanings and we invite you to have your carpets replenished of all the dirt and dust that foreshadows their beauty.
Why embark on this cleaning challenge on your own when Cleaners Streatham is specially designed to satisfy your every need for a clean, refreshed carpet? Here are some of the benefits from using our carpet cleaning service:
Applying the wrong cleaning method or treating your carpet with an unfit cleaning materials can add to the damage already done and spoil the integrity of the carpets. Our cleaning technicians are very well-familiar with the cleaning requirements of every type of fabric and sensitive fibre and won't allow the infliction of further damage.
We can treat each stain individually and apply different cleaning methods and solutions. In any case we will not worsen the situation.
Our detailed cleaning is followed by a thorough disinfection and killing of various allergens and germs. We leave the carpets clean as well as protected!
"My carpets mean so much to many and wouldn't let anyone else treat them, but you. For more than two years straight I have been relying on your diligent service to clean and refresh my carpets and I have seen nothing but excellent end results! You guys are the best! Thank you, again. – Gretchen"
"My mother gave me those carpets and I am so happy that I finally found a diligent service to clean them for me. I couldn't have asked for better end results- the carpets look totally different, their colours are back and they are more beautiful than ever. – Charlie"
What will be included in the cleaning
Inspection of the carpet
Vacuuming to remove dirty particles
Pre-treating of stains
Dry and steam cleaning to extract dirty patches, dust mites, etc.
Using environmentally-friendly cleaning products
Moisture extraction up to 95%
Quick drying process
Deodorising the cleaned areas
Applying a protective spray layer to repel future stains
No damaging the condition of the carpet